Dear Balm friends and guests
Welcome at the Balm
Wine & Dine
20 years aniversary with René Gabriel on Thursday 2nd November 2023 (sold out)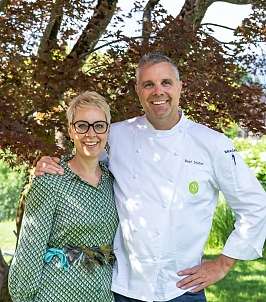 The hotel Balm with its 18 spacy rooms, the gourmet restaurant La Pistache (16GM) and the bistro is fullfilled with hospitality.
We maintain a sence of detail and we want to stand out with creativity, a superbe quality and best price/performance ratio that will always be happy to come back to the Balm.
Our restaurants are open from Wednesday to Sunday. For our hotel guests we also offer a half-board menu at CHF 59.00 per person and per evening, which consists of 3 courses and can be put together on site. We will be happy to pamper you with culinary delights.
If you need a break, the hotel is open 7 days a week. We have spacious rooms an we are situated in a beautiful area.
We are looking forward to seeing you at the Balm.
Sandra & Beat Stofer with Team
Hotel and gastronomy at Lake Lucerne
Discover our balms
in direct neighbourhood
5km to the centre of Lucerne
Partly with panoramic view
18 generous rooms
BEAT STOFER, MEMBERS OF THE JEUNES RESTAURATEURS
Culinary treats for lunch and dinner
Special offers for our guests
Discover our gastronomy
Discover Balm, our hotel and gastronomy
Guests trust us
Best ratings